Japanese

Potteries(Explanations to the technical terms of ceramics No.11)

There are various technical words on potteries. Here are some of those, for which I'd like to give you some remarks.
Ash
For a long time since people started to knead clay and fire it, the fuel to be used for kilns has been woods. After works have been fired and taken out, what remains in the kiln is plenty ashes.
In fact, the ashes can be reused as glaze. In the first place, the ashes that fell onto fired works give them the bright glitter with colors and gloss depending on the place. It's called natural glaze, with which Shigaraki ware becomes clear yellow-green, light blue, yellow, hazy pink or purple, while Bizen ware becomes yellow or brownish-red that is called "goma E These colors are obtained by the dissolved ashes alone, while "kaiyu Eis the ashes that are blended with clay or feldspar to be more soluble.
On the other hand, even without firing a kiln, there were ashes within the natural Japanese life until a few decades ago. They used to cook rice and other foods with a cooking oven, heat the bath with firewood, sit around the fire if cold, and burn weeds in their farm: their daily lives were naturally with ashes, which were utilized for potteries. For using ashes, some preliminary works are necessary.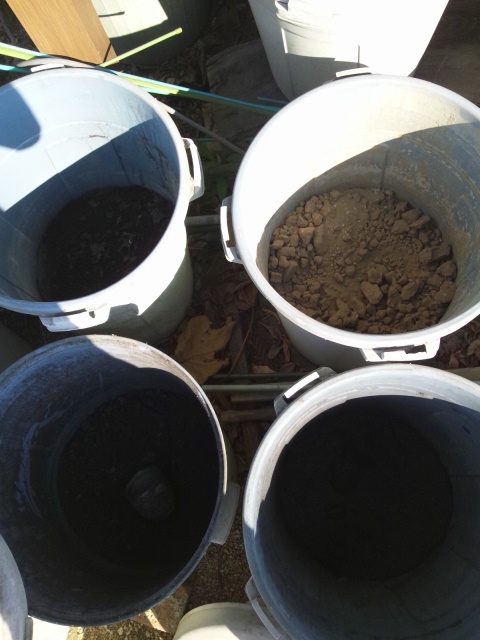 Photo by Naoki Kato

Firstly, burn some weeds or woods. Collect the ashes and put in water; completely immerse them in water. Then you will see something not burned perfectly floating on the surface, so just scoop them out. If stones and pebbles are in it, you'd better screen and remove them now for the later process. Or you can just remove something that are light and floating, and something that are heavy and staying in the bottom.
Leaving it for a day, the water starts to get muddy slightly to be a brown color. This is because the alkali salts contained in the weeds are dissolved, which is called lye. This lye by itself can be used as a coloring agent to obtain a bright orange color. The color appears more clearly if the clay contains some iron content. However, you must be aware that the lye in the initial period is very strong and causes rough skin, and handle it with wearing vinyl gloves. Throw away the supernatant water containing lye and put plenty fresh water, and stir it well with a stick or something from the bottom. Then leave it for a day again. The work to throw away the supernatant water to be replaced by fresh water with stirring is called "akunuki E(lye-removing). There are several types of ashes, some of which effuse lye very much and you should repeat the lye-removing every day for half a year, some of which effuse a little lye, and some of which effuse no lye at all. If you touch the supernatant water and find it to be not slimy, it means that lye has been perfectly removed. It is painful to break ice and conduct lye-removing in a very cold day in winter, but a sense of affection grows in yourself by making materials from scratch by yourself. The more time you have taken, the stronger feeling you will have.
The ashes after the lye has been removed can be used by drying it and grinding with a mill or screening; though the following process is essential to make use of it as a material. If you know the kinds of weeds and woods, you make a note of the names. You need to keep trying to fire with making several types of blends with clay and feldspar. Gramineous plants (rice, wheat, maize, bamboo, etc.) characteristically contain silicic acid in a high ratio and are insoluble. This type of ashes should be burnt to be darker because that in a black condition with remaining carbon is better for solution. If you obtain but only white one, a smaller amount of those is to be used when blending. They often use ashes made from gramineous plants to prevent potteries or a pottery and a column plate from attaching each other when firing, at a time, several products being piled up as is often the case with Bizen ware, because the nature of silicic acid doesn't dissolve the attaching part of clay. Sometimes they wrap products with or lay products on rice straw to prevent from attaching, too. In this case, the alkalinity contained in rice straw reacts with iron in clay and draws beautiful patterns in orange color. Leguminosae plants (soybean, peanut, wisteria, etc.) contain caustic lime in a higher ratio and are soluble. Ashes made from most kinds of woods also contain caustic lime a lot usually and are soluble.
If it's well soluble, it is good to be used as natural glaze by itself. When firing a kiln with wooden fuel, the red pine is good because it contains plenty oil content and burns for a long time, and it is also adequately solid and hard to burn out. Red pine contains a little iron content which changes drastically and causes various colors such as yellow-green, sky blue, yellow, and so on as is often the case with Shigaraki ware.
However,contents of natural materials are not always same depending on environment and soil quality of the places where it grew. In this reason, using ashes that are easily available in the place you're living would be good for enjoying potteries for a long time without hassles. For producing ideal potteries, it is also good that you try to get various type of ashes from here and there, but what is important when using natural materials is your sense to cuddle up with nature. You live with the surrounding environment and nature in which you can have ashes that are immediately available—it ought to be the best for you.